The Byram Police Department was established in 2010 when the City hired Chief Luke Thompson. The Command Staff was built to begin the process of building the city's first ever municipal police department. The Byram Police Department officially assumed law enforcement duties on June 1, 2011. In 2012, the department was accredited by the Mississippi Law Enforcement Accreditation Commission and recognized by the National Commission for the Accreditation of Law Enforcement Agencies (CALEA). The Byram Police Department was officially reaccredited in 2015 and again in 2018. The Department is authorized 33 sworn police officers in addition to dispatchers and civilian administrative staff.
Command Staff
Interim Chief David Errington
Chief Errington is a Byram native and a 1996 graduate of Byram High School. After graduating from Hinds Community College, he began his law enforcement career at the Hinds County Sheriff's Department where he served as an Emergency Dispatcher, Patrol Officer, and later as a supervisor in the Traffic Division. While working at the Hinds County Sheriff's Department, Errington was certified in accident reconstruction and as a police instructor. Errington was appointed as Uniformed Operations Commander in 2010 and assisted with the formation of the department. The Uniformed Operations Bureau includes Uniformed Patrol Officers and Animal Control. In 2017, Commander Errington graduated from the 267th Session of the Federal Bureau of Investigation National Academy located in Quantico, Virginia. Chief Errington was appointed Interim Chief in 2021.
Commander Reginald Cooper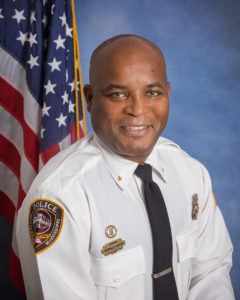 Commander Cooper is a native of Tchula and a 1997 graduate of Jackson State University. Cooper began his career at the Jackson Police Department where he worked as a patrol officer and served with the Violent Crimes Task Force and as a Detective in the Robbery/Homicide Division. Commander Cooper later served as a Domestic Violence Detective with the Yazoo City Police Department where he was recognized by the Center for Violence Prevention as "Hero of the Year" in 2010. Cooper began working as a Sergeant for the Byram Police Department in 2011 and later promoted to Sergeant of the Detective Bureau. Cooper was promoted to Commander of Administrative Support in 2016. The Administrative Support Bureau includes the Criminal Investigations Division, Communications, School Resources, Training, Records and Accreditation.